MULTI-FUEL GAS/WOOD/COAL FIRED CENTRAL FURNACE
Condition:

New

Time left:

6d 5h 20m
Shipping:

Ships to:

US

Item location:

Palisade,MN,USA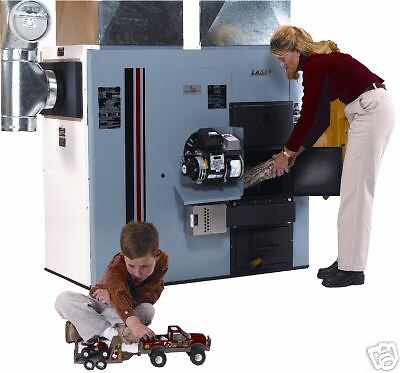 Brand:
YUKON
Model:
LWG-112
MPN:
LWG-112000L
Country/Region of Manufacture:
United States
HVAC Product Type:
UL LISTED MULTI FUEL FURNACE
YUKON HUSKY (EAGLE I)Model LWG-112
GAS/WOOD/COAL CENTRAL FURNACE112,000 BTU output - add up to 4 Tons of A/C


The Husky (and YUKON Polar) is the only UL Listed multi-fuel gas/wood/coal furnace that is Listed to vent out one chimney. All the other dual fuel gas/wood furnaces are actually two separate furnaces that also vent separately.
The UL Mark is your assurance that this furnace has gone through rigorous testing by UL to ensure the furnace is built to run and operate safely and built to last. The furnace is thermostatically controlled and is all automatic, just like a conventional furnace - except you can burn solid fuel for your primary heat source.
The unique design allows for the gas burner to light the wood in the firebox - no need to gather kindling or save papers to start your fire! Check out the pictures in the listing to see this in action. In the event of a power outage (if there isn't a fire going in it already, just hand fire the unit like you would any other wood furnace or wood stove). All YUKON furnace products have been Test by UL and are Listed to operate in "GRAVITY MODE" IN POWER OUTAGES. As long as the furnace is installed with all the ducting going UP off the top of the unit, you can keep your entire home warm when the power goes out.
The YUKON Husky's are built in America with American Steel. The firebox is made of 10 gauge steel that is lined with 2-inch thick high duty firebrick (protects the steel and retains heat in the furnace). The brick retainers, smoke baffles and secondary heat exchangers are made of thick type 304 stainless steel. The secondary heat exchanger feature increases the heating surface to 54 square feet. A standard gas or oil furnace has only 25 to 30 square feet.
Husky furnaces are equipped with a patented After Burner Jet system (gasification) that allows air in the firebox on top of the flame to burn off the gases and smoke...
* Seller assumes all responsibility for listing above.